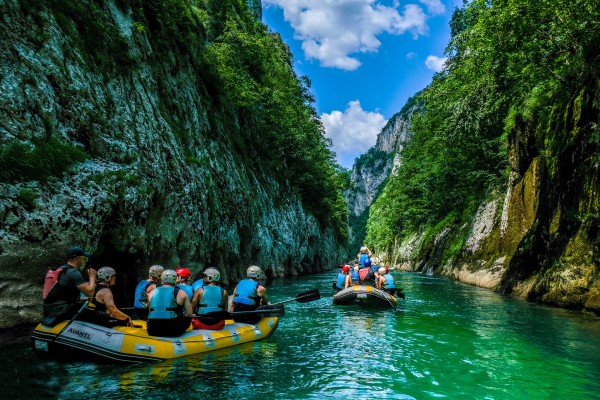 August 10, 2020
From Tito's bunker to rafting, then to lamb: How to spend an exciting day in Herzegovina?
http://lucfr.co.uk/2018/04/30/100-calls This week, the O Kanal team takes you to Konjic and Jablanica, to a combination of Bosnia and Herzegovina, history and natural beauty.
A little less than half an hour's drive between the two cities, somewhere between Bosnia and Herzegovina, there are beautiful and very attractive to tourists: Konjic and Jablanica. Historical, adventurous, cultural, summer, winter, sports and gastro-tourism – all in one episode that is broadcasted in the O channel program.
Hunting grounds and lakes
The old stone bridge is one of the main symbols of Konjic and probably the most common motif in photographs from this city. Geographically, it is considered the point where Herzegovina merges with Bosnia. Konjic is attractive because of the rich nature that completely surrounds the city. For lovers of heights, Prenj is the most beautiful and most attractive mountain in Bosnia and Herzegovina. Even Austrian-German tourist brochures wrote about Konjic as a place with extraordinary touristic potential. Konjic is known as a place with good hunting grounds, excellent running water, lakes, the Neretva, etc.
Tito's bunker
A big international attraction is the famous Tito's bunker, which is located not far from the Konjic bazaar. It is the most closely guarded secret of SFR Yugoslavia, a building code named Istanbul, built in complete secrecy for 26 years, from 1953 to 1979. The construction cost the then 4.6 billion US dollars, which in today's equivalent would be more than 10 billion dollars. It consists of residential areas, a conference hall, an office and other areas, on 6,500 square meters of space at a depth of 280 meters underground. In the event of war, 350 leading Yugoslav officials were to be housed in the bunker. The only woman among them would be Jovanka Broz, the wife of Josip Broz Tito.
We also visited the Birth House of Zulfikar Zuko Dzumhur, a famous Bosnian travel writer, painter and cartoonist. The house has authentic furniture decorated with traditional motifs, a large number of his published and unpublished texts, books, cartoons, etc.
And if you were in Konjic and did not try rafting on the Neretva, it can be said that you were not even in Konjic – people tell us which we met here. Near the bazaar, upstream along the Neretva, is the village of Dzajici. Although not so great, it abounds in content, incredible history and stories related to it. Today it is widely known for rafting on the Neretva, and the biggest attraction of the village is the well-known Džajića buk.
Source: https://www.oslobodjenje.ba/vijesti/bih/iz-titovog-bunkera-na-rafting-pa-na-janjetinu-kako-provesti-uzbudljiv-dan-u-hercegovini-576933