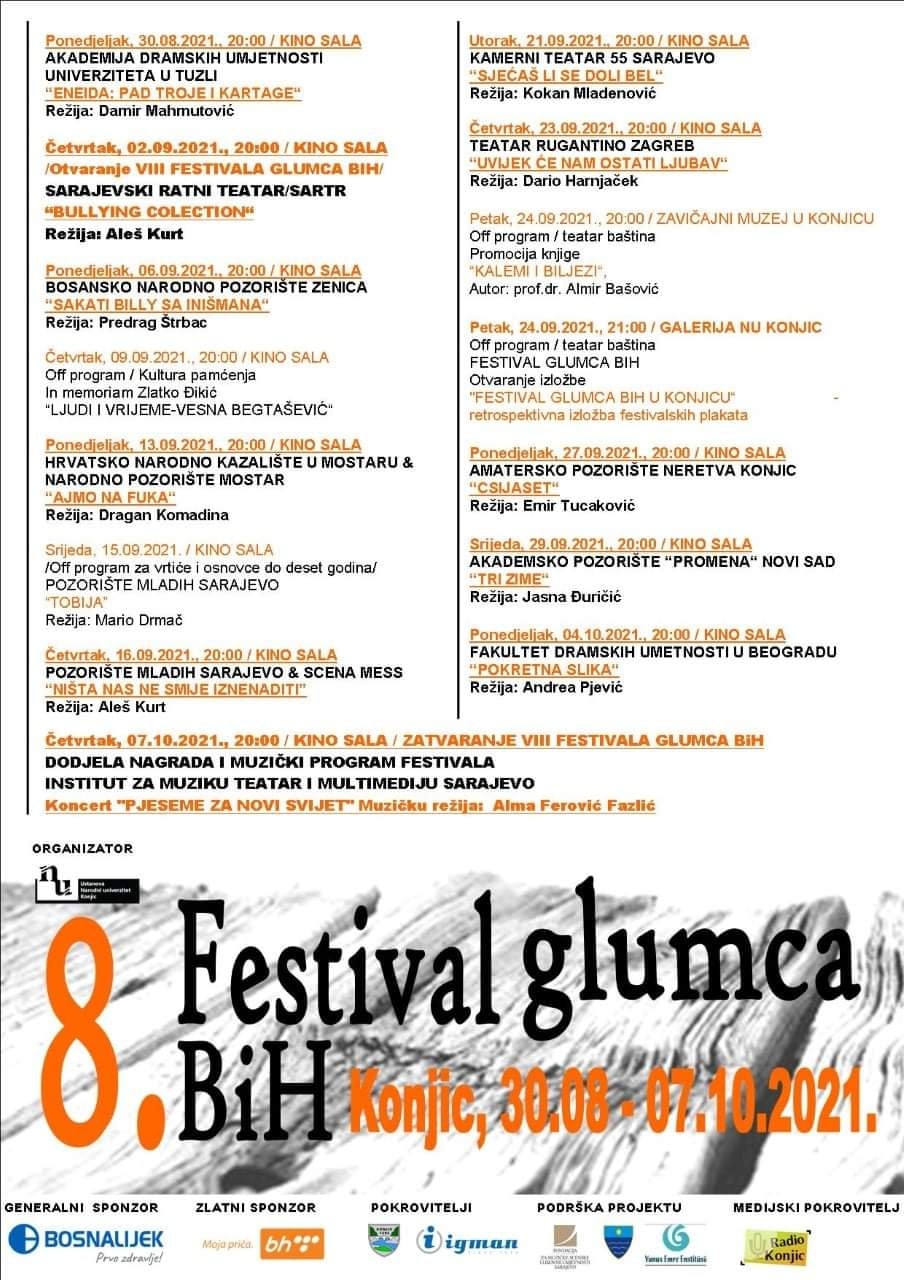 September 1, 2021
THE 8th BiH ACTORS' FESTIVAL 30.08-07.10.2021.
The 8th BiH Actors' Festival, in organization of the Konjic National University, has started in Konjic and will last until October 7.
This year, the festival will host nine theaters, six from BiH and three within the regional program from Serbia and Croatia.
Benjamin Mušinović, director of the National University, said that this year, in anticipation of the Festival, the Konjic audience could see the play "Eneida: Pad Troje i Kartage" of the Academy of Dramatic Arts in Tuzla, and the grand opening will be held on Thursday, September 2, 2021.
buy Seroquel mastercard Interesting OFF program
This year the Festival opens the Sarajevo War Theater (SARTR) with the play "Bullying collection", and after that we will host the Bosnian National Theater from Zenica, the Youth Theater in co-production with MESS, the National Theater Mostar in co-production with the Croatian National Theater in Mostar and Chamber Theater 55 from Sarajevo, and Amateur Theater "Neretva" Konjic. The "Rugantino" Theater Zagreb, the "Promena" Academic Theater in Novi Sad and the Faculty of Dramatic Arts in Belgrade will perform in the regional program – said Mušinović.
An OFF program will be held as part of the BiH Actors' Festival, which will offer several contents to the audience. On Thursday, September 9, will be organized the program "In memoriam Zlatko Đikić – People and Time, Vesna Begtašević".
The play "Tobija" by the Sarajevo Youth Theater will be performed for the youngest on September 15, and the book "Kalemi i biljezi" by prof. dr. Almir Bašović. On the same day, the exhibition "BiH Actors' Festival in Konjic" will be opened – a retrospective exhibition of festival posters.
muzzily Songs for a new world
At the end of the festival, on October 7, will pwerform the Institute of Music, Theater and Multimedia Sarajevo, which will hold a concert "Songs for a New World" directed by Alma Ferović-Fazlić.
The Konjic audience will once again this year, choose the best actor and actress with their votes , who will be awarded with woodcarving masks, the work of Konjic carvers.
Source: Novikonjic.ba