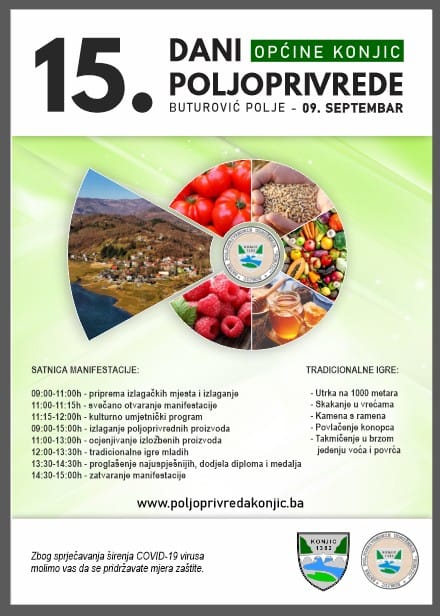 September 6, 2021
DAYS OF AGRICULTURE OF KONJIC MUNICIPALITY
Fort Lee Apart from natural and cultural values, the municipality of Konjic is known as an area where old autochthonous types of fruits and vegetables are grown, and food products are created, which are produced by agricultural producers from all parts of the municipality. Tomatoes and onions from Buturović Polje, Bjelimići potatoes, Repovački cheese, Idbar cabbage, plums from Nevizdraci, Konjic honey, chestnuts from Klis, blueberries and cranberries, medicinal herbs from Zec mountain, Bitovinja, Prenj, Bjelašnica and Visočica, are just some of the products on which the people of Konjic are especially proud.
With the aim of promoting products that have found their place in kitchens and on the tables of Bosnians and Herzegovinians, the Agricultural Associations Konjic and the Local Community "Neretvica" under the auspices of the Municipality of Konjic have been organizing the event "Days of Agriculture of the Konjic Municipality". This year's event will be held in Buturović Polje on Thursday, September 9, 2021, from 11 a.m. to 3 p.m. On this occasion, 40 exhibitors from all areas of agricultural production will present themselves with various fruits of their labor and work. This year's event is held under the slogan "#madeinkonjic", in order to point out the fact that this city and municipality have recognizable products by quality and to protect themselves as such.
"Days of Agriculture of the Konjic Municipality" marking 15 years of fair activities will provide guests with a special atmosphere through a rich cultural and sports program that can be enjoyed by all generations, and on this occasion will be presented the beginning of stronger links between equestrian economy and agriculture through local partnership.
Come to the "Days of Agriculture of the Konjic Municipality" on September 9, 2021 and enjoy fresh produce and processed products produced by hardworking konjic people.